Tyrannotitan
 is creatable in
Jurassic World: The Game
 as a Rare carnivore.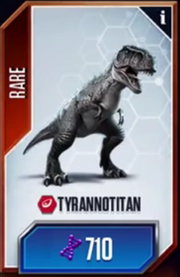 Information
Tyrannotitan is unlocked by completing Battle Stage 46. Additional individuals can be purchased in the dino market for 710 DNA or found through card packs.
A level 40 Tyrannotitan can be fused with a level 40 Supersaurus to create the hybrid Suprannotitan.
Cost and Time to Hatch
Availability
Rare
Incubation Period
03:10:00
Placement Cost
710 DNA
Selling Reward
360 DNA
Maximum Earning Rate
249.93 Gold/Minute
Additional Information
Tyrannotitan
Appearance
Unlocked Trivia
Evo 1
Reward: 770 Food
"Its name meaning 'tyrant titan', the Tyrannotitan can reach an impressive 15 feet tall!"
Evo 2
Reward: 5,555 Food
"The Tyrannotitan can weigh between 4-7 tonnes. That's more than an African elephant!"
Evo 3
Reward: 28 Dino Bucks and 12,740 Food
"Did you know that the Tyrannotitan has chisel-like teeth?"
Evo 4
Reward: 57 Dino Bucks, 20,195 Food and 57 DNA
"The InGen variety of the Tyrannotitan is mottled with varying shades of grey and deep blue."
Level-Based Stats
| Level | Unmodified Earning Rates (2 hrs) | Feeding Costs | Life | Attack |
| --- | --- | --- | --- | --- |
| 1 | 94 | 767 | 74 | 28 |
| 2 | 188 | 1,520 | 78 | 30 |
| 3 | 282 | 2,290 | 82 | 31 |
| 4 | 375 | 3,025 | 86 | 33 |
| 5 | 469 | 3,792 | 90 | 34 |
| 6 | 563 | 4,544 | 94 | 36 |
| 7 | 657 | 5,315 | 98 | 37 |
| 8 | 750 | 6,050 | 102 | 39 |
| 9 | 844 | 6,816 | 106 | 41 |
| 10 | 938 | Evolve (00:30:00 @ 50 DNA) | 110 | 42 |
| 11 | 2,062 | 5,553 | 143 | 55 |
| 12 | 2,250 | 6,050 | 148 | 57 |
| 13 | 2,437 | 6,561 | 153 | 59 |
| 14 | 2,625 | 7,072 | 158 | 61 |
| 15 | 2,812 | 7,583 | 164 | 62 |
| 16 | 3,000 | 8,080 | 169 | 64 |
| 17 | 3,187 | 8,591 | 174 | 66 |
| 18 | 3,374 | 9,088 | 179 | 68 |
| 19 | 3,562 | 9,600 | 184 | 70 |
| 20 | 3,749 | Evolve (01:00:00 @ 60 DNA) | 189 | 72 |
| 21 | 7,873 | 12,738 | 233 | 89 |
| 22 | 8,248 | 13,334 | 239 | 91 |
| 23 | 8,623 | 13,945 | 245 | 94 |
| 24 | 8,998 | 14,541 | 252 | 96 |
| 25 | 9,372 | 15,152 | 258 | 98 |
| 26 | 9,747 | 15,748 | 264 | 101 |
| 27 | 10,122 | 16,359 | 270 | 103 |
| 28 | 10,497 | 16,955 | 276 | 105 |
| 29 | 10,872 | 17,580 | 282 | 108 |
| 30 | 11,247 | Evolve (02:00:00 @ 70 DNA) | 288 | 110 |
| 31 | 23,243 | 20,193 | 344 | 131 |
| 32 | 23,993 | 20,860 | 351 | 134 |
| 33 | 24,743 | 21,513 | 358 | 137 |
| 34 | 25,492 | 22,152 | 365 | 139 |
| 35 | 26,242 | 22,820 | 372 | 142 |
| 36 | 26,992 | 23,459 | 379 | 145 |
| 37 | 27,742 | 24,112 | 386 | 148 |
| 38 | 28,491 | 24,751 | 394 | 150 |
| 39 | 29,241 | 25,418 | 401 | 153 |
| 40 | 29,991 | Fuse (00:00:00 @ DNA) | 408 | 156 |
Gallery