This page needs serious attention!
---
This article does not currently meet the standards set at
Park Pedia: The Jurassic Park Wiki. Please feel free to edit it, and pose any
questions you might have on the article's talk page.
Unayrhynchus
is creatable in
Jurassic World: The Game
as a legendary hybrid herbivore.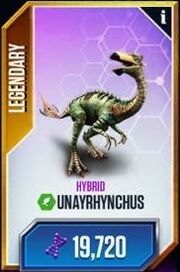 Information
It is unlocked in the market by fusing a level 40 Unaysaurus and a level 40 Rhamphorhynchus. Additional individuals can be purchased in the market for 19,720 DNA or found through special card packs.
Cost and Time to Hatch
Rank
Legendary
Incubation Period
_ Days 00:00:00
Placement Cost
19,720 DNA
Selling Reward
??? DNA
Maximum Earning Rate
??? Gold/Minute
Appearance
Unlocked Trivia
Evo 1
Reward:
"Did you know that Unayrhynchus means 'black water snout'? It gets its name from the colour of its beak!"
Evo 2
Reward:
"The Unayrhynchus is quite light, weighing only 100 pounds. That's about as much Doberman pinscher!"
Evo 3
Reward:
"The average Unayrhynchus stands at 2 feet in height and can run up to 60 mph!"
Evo 4
Reward:
"Although its diet consists of vegetation, the Unayrhynchus is an omnivore. Its needle-like teeth are perfect for catching fish!"
Level-Based Stats
| Level | Unmodified Earning Rates (2 hrs) | Feeding Costs | Life | Attack |
| --- | --- | --- | --- | --- |
| 1 | 592 | 11,102 | 852 | 218 |
| 2 | 1,184 | 21,863 | 900 | 230 |
| 3 | 1,776 | 32,922 | 947 | 242 |
| 4 | 2,368 | 43,683 | 994 | 254 |
| 5 | 2,960 | 54,742 | 1,042 | 266 |
| 6 | 3,551 | 65,502 | 1,089 | 278 |
| 7 | 4,143 | 76,562 | 1,137 | 291 |
| 8 | 4,735 | 87,322 | 1,184 | 303 |
| 9 | 5,327 | 98,381 | 1,231 | 315 |
| 10 | 5,919 | Evolve (08:00:00 @ 140 DNA) | 1,278 | 327 |
| 11 | 13,021 | 80,276 | 1,657 | 424 |
| 12 | 14,204 | 87,407 | 1,716 | 439 |
| 13 | 15,388 | 94,794 | 1,776 | 454 |
| 14 | 16,572 | 102,011 | 1,835 | 469 |
| 15 | 17,755 | 109,398 | 1,894 | 484 |
| 16 | 18,939 | 116,529 | 1,953 | 499 |
| 17 | 20,122 | 123,916 | 2,012 | 515 |
| 18 | 21,306 | 131,132 | 2,071 | 530 |
| 19 | 22,490 | 138,519 | 2,131 | 545 |
| 20 | 23,673 | Evolve (00:00:00 @ DNA) | 2,190 | 560 |
| 21 | | | | |
| 22 | | | | |
| 23 | | | | |
| 24 | | | | |
| 25 | | | | |
| 26 | | | | |
| 27 | | | | |
| 28 | | | | |
| 29 | | | | |
| 30 | | Evolve (00:00:00 @ DNA) | | |
| 31 | | | | |
| 32 | | | | |
| 33 | | | | |
| 34 | | | | |
| 35 | | | | |
| 36 | | | | |
| 37 | | | | |
| 38 | | | | |
| 39 | | | | |
| 40 | | Max | | |
Gallery