Unaysaurus is creatable in Jurassic World: The Game as a legendary herbivore.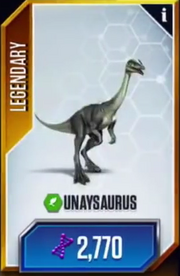 Information
It is unlocked by completing battle stage 45. More individuals can be purchased in the market for 2,770 DNA or found through card packs.
A level 40 Unaysaurus can be fused with a level 40 Rhamphorhynchus to create the hybrid Unayrhynchus.
Cost and Time to Hatch
Availability
Legendary
Incubation Period
35:49:00
Placement Cost
2,770 DNA
Selling Reward
1,390 DNA
Maximum Earning Rate
390.02 Gold/Minute
Additional Information
Unaysaurus
Appearance
Unlocked Trivia
Evo 1
Reward: 1,995 Food
"The Unaysaurus lived 200-225 million years ago during the late Triassic Period on the then super continent of Pangea."
Evo 2
Reward: 16,925 Food
"Did you know that the Unaysaurus is related to the famous and much larger Plateosaurus?"
Evo 3
Reward: 100 Dino Bucks and 77,560 Food
"
Evo 4
Reward: 100 Dino Bucks, 327,805 Food and 222 DNA
"
Level-Based Stats
| Level | Unmodified Earning Rates (2 Hours) | Feeding Costs | Life | Attack |
| --- | --- | --- | --- | --- |
| 1 | 147 | 399 (5x = 1,995) | 317 | 81 |
| 2 | 293 | 787 (5x = 3,935) | 335 | 86 |
| 3 | 439 | 1,186 (5x = 5,930) | 352 | 90 |
| 4 | 586 | 1,574 (5x = 7,870) | 370 | 95 |
| 5 | 732 | 1,973 (5x = 9,865) | 388 | 99 |
| 6 | 878 | 2,361 (5x = 11,805) | 405 | 104 |
| 7 | 1,024 | 2,759 (5x = 13,795) | 423 | 108 |
| 8 | 1,171 | 3,147 (5x = 15,735) | 440 | 113 |
| 9 | 1,317 | 3,546 (5x = 17,730) | 458 | 117 |
| 10 | 1,463 | Evolve (02:00:00 @ 70 DNA) | 476 | 122 |
| 11 | 3,218 | 3,385 (5x = 18,480) | 617 | 158 |
| 12 | 3,511 | 3,696 (5x = 18,480) | 639 | 163 |
| 13 | 3,803 | 4,006 (5x = 20,030) | 661 | 169 |
| 14 | 4,096 | 4,305 (5x = 21,525) | 683 | 175 |
| 15 | 4,388 | 4,610 (5x = 23,050) | 705 | 180 |
| 16 | 4,681 | 4,920 (5x = 24,600) | 727 | 186 |
| 17 | 4,973 | 5,230 (5x = 26,150) | 749 | 191 |
| 18 | 5,266 | 5,535 (5x = 27,675) | 771 | 197 |
| 19 | 5,558 | 5,845 (5x = 29,225) | 793 | 203 |
| 20 | 5,851 | Evolve (04:00:00 @ 80 DNA) | 815 | 208 |
| 21 | 12,286 | 9,768 (5x = 48,840) | 1,004 | 257 |
| 22 | 12,871 | 10,222 (5x = 51,110) | 1,031 | 263 |
| 23 | 13,456 | 10,704 (5x = 53,520) | 1,057 | 270 |
| 24 | 14,041 | 11,158 (5x = 55,790) | 1,083 | 277 |
| 25 | 1,110 | 11,634 (5x = 58,170) | 1,110 | 284 |
| 26 | 15,211 | 12,089 (5x = 60,445) | 1,136 | 291 |
| 27 | 15,796 | 12,554 (5x = 62,770) | 1,163 | 297 |
| 28 | 16,381 | 13,019 (5x = 65,095) | 1,189 | 304 |
| 29 | 16,966 | 13,485 (5x = 67,425) | 1,216 | 311 |
| 30 | 17,551 | Evolve (08:00:00 @ 90 DNA) | 1242 | 318 |
| 31 | 36,272 | 25,961 (5x = 129,805) | 1,480 | 378 |
| 32 | 37,422 | 26,781 (5x = 133,905) | 1,511 | 386 |
| 33 | 38,612 | 27,645 (5x = 138,225) | 1,541 | 394 |
| 34 | 39,782 | 28,471 (5x = 142,355) | 1,572 | 402 |
| 35 | 40,952 | 29,318 (5x = 146,590) | 1,603 | 410 |
| 36 | 42,122 | 30,138 (5x = 150,690) | 1,634 | 418 |
| 37 | 43,292 | 30,991 (5x = 154,955) | 1,665 | 426 |
| 38 | 44,462 | 31,811 (5x = 159,055) | 1,696 | 434 |
| 39 | 45,632 | 32,653 (5x = 163,265) | 1,726 | 441 |
| 40 | 46,802 | Fuse (00:00:00 @ DNA) | 1757 | 449 |
Trivia
Gallery