Unaysaurus is creatable in Jurassic World: The Game as a Legendary herbivore.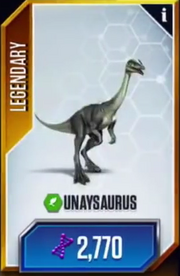 Information
It is unlocked by completing battle stage 45. More individuals can be purchased in the market for 2,770 DNA or found through card packs.
A level 40 Unaysaurus can be fused with a level 40 Rhamphorhynchus to create the hybrid Unayrhynchus.
Cost and incubation time
Type
Land
Subtype
Herbivore
Rarity
Legendary
Maximum earning rate
(coins per minute)
390
Additional Information
Unaysaurus
Costs and Incubation Times
Level
Cost
Incubation time
(D:HH:MM)
Selling cost
1
2,770
1:11:50
1,390
11
70
0:02:00
2,770
21
80
0:04:00
5,540
31
90
0:08:00
11,080
Trivia
Level
Rewards
Trivia
Bucks
Food
DNA
LP
Evo 1
—
1,995
—
—
The Unaysaurus lived 200-225 million years ago during the late Triassic Period on the then super continent of Pangea.
Evo 2
—
16,925
—
—
Did you know that the Unaysaurus is related to the famous and much larger Plateosaurus?
Evo 3
100
77,560
—
—
This small dinosaur stands at barely 3 feet tall and weighs no more than 200 pounds!
Evo 4
100
327,805
222
—
Stats
Level
Health
Attack
Earning rates
(per 6 hours)
Feeding costs
1
317
811
147
2
335
86
293
3
352
90
439
4
370
95
586
5
388
99
732
6
405
104
878
7
423
108
1,024
8
440
113
1,171
9
458
117
1,317
10
476
122
1,463
Evolve
11
617
158
3,218
12
639
163
3,511
13
661
169
3,803
14
683
175
4,096
15
705
180
4,388
16
727
186
4,681
17
749
191
4,973
18
771
197
5,266
19
793
203
5,588
20
815
208
5,851
Evolve
21
1.004
257
12,286
77,560
22
1,031
263
12,871
81,161
23
1,057
270
13,456
85,012
24
1,083
277
14,041
88,585
25
1,110
284
15,110
92,352
26
1,136
291
15,211
95,981
27
1,163
297
15,796
99,693
28
1,189
304
16,381
103,349
29
1,216
311
16,966
107,061
30
1,242
318
17,551
Evolve
31
1,480
378
36,272
32
1,511
386
37,422
33
1,541
394
38,612
34
1,572
402
39,782
35
1,603
410
40,952
36
1,634
418
42,122
37
1,665
426
43,292
38
1,696
434
44,462
39
1,726
441
45,632
40
1,757
449
46,802
Max
Appearance
Trivia
Gallery