Universal Movie Tycoon is a sim city-building genre incorporated with classic movies players already have a knowledge of. This game lets players construct their own universal studios. Players get the opportunity to build 15 studios and buy over 35 blockbuster movies. For example to make "Green Zone", you will need to build the "army base exterior" set.
Some Blockbuster Movies Include
Green Zone
Snow White and the Huntsmen
The Fast and Furious
Peter Pan
E.T.
Back to the Future
Tomb of the Dragon Emperor
The Mummy
Despicable Me
Jaws
Jurassic Park
Jurassic Park
When the player has the money to buy a movie script, they click on the "Studio Production Office". The game then brings up a sliding list of all the movie scripts available in order of price.
Jurassic Park is the last one on the list, and the most costly. It costs 100,00 gold coins with an estimated return value when released of 1,100,000. This menu also provides the player with a description of the movie: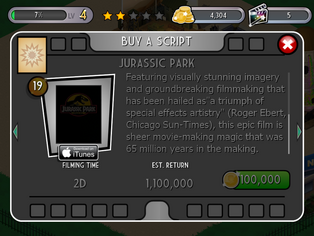 "You won't believe your eyes"   (Rolling Stone) when dinosaurs once again roam the Earth in an amazing theme park on a remote island. The action-packed adventures find man up against prehistoric predators in the ultimate battle for survival. Featuring visually stunning imagery and groundbreaking filmmaking that has been hailed as "a triumph of special effects artistry"(Roger Ebert, Chicago Sun-Times), this epic film is sheer movie-making magic that was 65 million years in the making.
The menu also tells us the movie takes 2 days for filming time.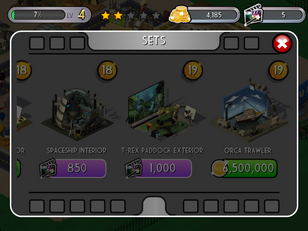 Although to make the movie, you have to have the set, which for Jurassic Park is the "T-Rex Paddock Exterior" set. This set however doesn't cost gold coins, it costs 1000 "movie magic" (a type of currency in the game which can't be generated from already constructed buildings, instead can only be gotten by spending real money on "in-game purchases". This amount of "movie magic" could possibly cost between £10-£12.
External links
Community content is available under
CC-BY-SA
unless otherwise noted.