Bastion Monk
Date joined
March 3, 2009
User rights
Bureaucrat
Work
Student
Title(s)
BSc Biology
Language(s)
Dutch
English
Religious views
Pastafarianism
Good day to you, my fellow Jurassic Park fan. Thanks for taking time out of your busy schedule to read about me. I am a random guy from the Netherlands. The country where the first prehistoric super reptile, Mosasaurus, was discovered. That discovery started the scientific revolution which led to the discovery of deep time, extinction and evolution. I have been a dinosaur geek since the age of 5. I just love everything from the savage ages of yore.
Why do I call myself Bastion Monk? It is a very loose translation of my real name in English. I like the idea of being a mystic Monk, ruling over an enchanted Bastion containing all knowledge of the universe.
I am one of the Bureaucrats on this wiki. Feel free to ask me (almost) anything. Here are some links to my social media sites. I like to chat with new people. If you happen to play the same games as me, I'd love to game together some time.
Me and Jurassic Park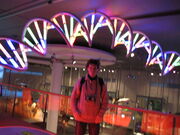 I was into dinosaurs far before I saw Jurassic Park. I liked all stories about what happened on this same planet millions of years before we humans are supposed to have existed. JP and its sequel The Lost World: Jurassic Park were the only dinosaur movies with decent graphics, so I watched them over and over again.
Then came Walking with Dinosaurs. As a medium to learn more about dinosaurs it was better by far than Jurassic Park. Alright the graphics were not as good as Jurassic Park, and it didn't have an exiting plot with dinosaurs chasing humans. However, the graphics are improved and Nigel Marven is now chased by dinosaurs, Megalodons and everything a prehistory fan can dream of. When Jurassic Park III came out, I saw it one time in the cinema and that was it.
It was only years later, that I saw this video on youtube: Jurassic Park: Trespasser.
This video changed everything. I became fascinated with the concept that is so unique of Jurassic Park: Recreating extinct animals! It showed the power of genomics and cell biology. I hope we will once be able to bring the Dinosaurs back to life; I will do it if I can.
After that I became interested it the story itself again and what it did for so many people. On March3, 2009 I started to edit on this Wiki. And now I've made thousands of edits and I've become the Bureaucrat of this Wiki. How can only one video do such things to people?
FAQ
Are you the founder of this wiki?
No. Master Cheif founded the wiki in 2006. I became the head admin, Bureaucrat, in summer 2010.
Are you in charge of this wiki?
No. There are other Bureaucrats on this wiki. Furthermore, Bureaucrats and Admins are never the owners of a wikia. They just have access to more buttons and have proven their worth as a member of the wiki.
What is your favourite Jurassic character?
The recreation of extinct animals is my favourite aspect of the JP lore. Dr. Henry Wu, he recreated the dinosaurs. So, he is my favourite character. I am so glad that in the Jurassic World trilogy Dr. Wu finally gets the stoplight he deserves.