Jurassic Park Wikia Member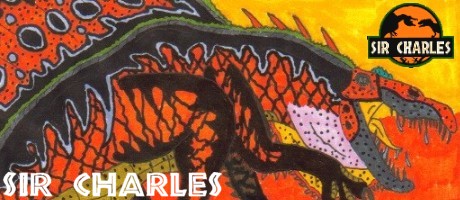 About me
Hi my name is Charles Harris Doss, but while your here please refer to me as Sir Charles. Thank you.
Actually I was in to dinosaurs even before Jurassic Park came out I think maybe I was 4 or something all I know it was a LONG time ago probably 3 I think thats what my Grandmother said, for this I have made my own saying: "It wasn't Jurassic Park that got me into Dinosaurs, it was Dinosaurs that got me in to Jurassic Park.". I also remember when I saw the trailer for Jurassic Park at KMart I repeated what Ray Arnold said: "Hold on to your butts" it made a this lady and her daughter turn their heads! My Grandmother said my name and said that I was making people stare! LOL I was young what does people expect a kid to do.
I've been a huge fan of Jurassic Park ever since I was 7 years old and now I'm in my 20's so, yeah I'm a HUGE FAN!
My favorite quotes from movie are: "When you gotta go you gotta go." - Ian Malcolm and
"Hold on to your butts" - Ray Arnold.
I enjoy drawing normal dinos, JP dinos, other prehistoric animals such as reptiles and mammals, and I also draw JP Chaos Effect dinos and some of my own JP:CE creations.
I also still collect the JP figures I just recently bought the JP series 2 Utahraptor "RIPPER" with electronic scream, I've been looking for this guy for a very long time now just recently I bought the JP series 1 Tyrannosaurus Rex with electronic roar and foot stomps, I've been looking for this guy for a long time as well I did see it at Wall*Mart when I was younger but I was unable to buy it then!
My contributions
Trophy room
Wikia activity
Doing missions are a great way to help building this wiki.
Small Missions: this user has no finished any small missions
Medium Missions: this user has no finished any medium missions
Big Missions: this user has no finished any big missions
The Experience Points gathered in all your missions are the main indication of your devotion to the Jurassic Wiki. If you reach 100 XP, you have enough experience to become an Admin.
Trophy room
Trophies can be bought with the gold you have gathered or earned when you reach a milestone.
Community content is available under
CC-BY-SA
unless otherwise noted.