Utahraptor is creatable in Jurassic World: The Game as a Common carnivore.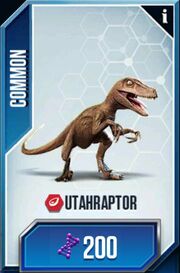 Information
Utahraptor is unlocked by completing Battle Stage 7. Additional individuals can be purchased in the market for 200 DNA or found through card packs.
As of June 10, 2015, a Level 40 Utahraptor can be fused with a Level 40 Spinosaurus to make the hybrid Spinoraptor.
Cost and Time to Hatch
Availability
Common
Incubation Period
00:30:00
Placement Cost
200 DNA
Selling Reward
100 DNA
Maximum Earning Rate
105.608 Coins/Minute
Additional Information
Utahraptor
Appearance
Unlocked Trivia
Evo 1
Reward: 270 Food
"Did you know that the Utahraptor is the largest raptor to ever live? At 100 pounds, it weighs the same as a polar bear!"
Evo 2
Reward: 2,935
"Like other raptors, the Utahraptor has large, curved claws on its second toes. These claws can reach a terrifying 10 inches!"
Evo 3
Reward: 8 Dino Bucks and __ Food
"The Utahraptor lived approximately 50 million years before the better known Velociraptor!"
Evo 4
Reward: 16 Dino Bucks, __ Food and __ DNA.
"Named by paleontologist Robert Bakker, the Utahraptor is the main character of his adventure novel, 'Raptor Red.'"
Level-Based Stats
| Level | Unmodified Earning Rates (2 hrs) | Feeding Costs | Life | Attack |
| --- | --- | --- | --- | --- |
| 1 | 40 | 54 (5x = 270) | 47 | 18 |
| 2 | 80 | 107 (5x = 535) | 49 | 19 |
| 3 | 119 | 161 (5x = 805) | 52 | 20 |
| 4 | 159 | 213 (5x = 1,065) | 54 | 21 |
| 5 | 199 | 267 (5x = 1,335) | 57 | 22 |
| 6 | 238 | 320 (5x = 1,600) | 60 | 23 |
| 7 | 278 | 374 (5x = 1,870) | 62 | 24 |
| 8 | 317 | 426 (5x = 2,130) | 65 | 25 |
| 9 | 357 | 480 (5x = 2,400) | 67 | 26 |
| 10 | 397 | Evolve (00:05:00 @ 40 DNA) | 70 | 27 |
| 11 | 872 | 587 (5x = 2,935) | 91 | 35 |
| 12 | 951 | 639 (5x = 3,195) | 94 | 36 |
| 13 | 1,030 | 693 (5x = 3,465) | 97 | 37 |
| 14 | 1,109 | 747 (5x = 3,735) | 100 | 38 |
| 15 | 1,189 | 801 (5x = 4,005) | 104 | 40 |
| 16 | 1,268 | 854 (5x = 4,270) | 107 | 41 |
| 17 | 1,347 | 908 (5x = 4,540) | 110 | 42 |
| 18 | 1,426 | 960 (5x = 4,800) | 113 | 43 |
| 19 | 1,505 | 1,014 (5x = 5,070) | 117 | 45 |
| 20 | 1,585 | Evolve (00:30:00 @ 60 DNA) | 120 | 46 |
| 21 | 3,327 | 1,346 (5x = 6,730 ) | 148 | 56 |
| 22 | 3,485 | 1,409 (5x = 7,045 ) | 152 | 58 |
| 23 | 3,644 | 1,473 (5x = 7,365 ) | 156 | 59 |
| 24 | 3,802 | 1,536 (5x = 7,680 ) | 159 | 61 |
| 25 | 3,961 | 1,601 (5x = 8,005 ) | 163 | 62 |
| 26 | 4,119 | 1,664 (5x = 8,320 ) | 167 | 64 |
| 27 | 4,277 | 1,728 (5x = 8,640 ) | 171 | 65 |
| 28 | 4,436 | 1,791 (5x = 8,955 ) | 175 | 67 |
| 29 | 4,594 | 1,857 (5x = 9,285 ) | 179 | 68 |
| 30 | 4,753 | Evolve (01:00:00 @ 80 DNA) | 183 | 70 |
| 31 | 9,821 | 2,133 (5x = 10,665 ) | 218 | 83 |
| 32 | 10,138 | 2,204 (5x = 11,020 ) | 222 | 85 |
| 33 | 10,455 | 2,273 (5x = 11,365 ) | 227 | 87 |
| 34 | 10,772 | 2,340 (5x = 11,700 ) | 231 | 88 |
| 35 | 11,089 | 2,411 (5x = 12,055 ) | 236 | 90 |
| 36 | 11,405 | 2,478 (5x = 12,390 ) | 240 | 92 |
| 37 | 11,722 | 2,547 (5x = 12,735 ) | 245 | 94 |
| 38 | 12,039 | 2,615 (5x = 13,075 ) | 249 | 95 |
| 39 | 12,356 | 2,685 (5x = 13,425 ) | 254 | 97 |
| 40 | 12,673 | Fuse (04:00:00 @ 350 DNA) | 259 | 99 |
Gallery