This page needs serious attention!
---
This article does not currently meet the standards set at
Park Pedia: The Jurassic Park Wiki. Please feel free to edit it, and pose any
questions you might have on the article's talk page.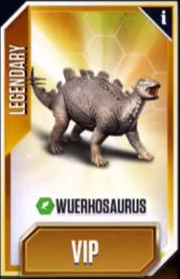 Wuerhosaurus is creatable in Jurassic World: The Game as a VIP Exclusive herbivore.
Information
Wuerhousaurus can only be obtained in VIP Exclusive card packs.
Cost and Time to Hatch
Availability
VIP Exclusive
Incubation Period
00:00:00
Placement Cost
N/A
Selling Reward
???  DNA
Maximum Earning Rate
??? Gold/Minute
Additional Information
Wuerhosaurus
Appearance
Unlocked Trivia
Evo 1
Reward: 9,000 Food
"Did you know that Wuerhosaurus means 'Wuerho's reptile'? Its name is derived from the city of Wuerho in China."
Evo 2
Reward: 76,375 Food
"Reaching a length of 23 feet, an adult Wuerhosaurus weighs 4 tons! That's as much as a rhinoceros!"
Evo 3
Reward: 100 bucks and 350,000 Food 
"What distinguishes the Wuerhosaurus from its more famous cousin, the Stegosaurus, are its small rounded, rectangle-shaped plates."
Evo 4
Reward: 1,479,250 Food, 100 Bucks and 208 Loyalty Points
"Like the Stegosaurus, the Wuerhosaurus has four bony spikes on its tail, which it uses to defend itself and its young."
Level-Based Stats
| Level | Unmodified Earning Rates () | Feeding Costs | Life | Attack |
| --- | --- | --- | --- | --- |
| 1 | | | | |
| 2 | | | | |
| 3 | | | | |
| 4 | | | | |
| 5 | | | | |
| 6 | | | | |
| 7 | | | | |
| 8 | | | | |
| 9 | | | | |
| 10 | | Evolve (00:00:00 @ DNA) | | |
| 11 | | | | |
| 12 | | | | |
| 13 | | | | |
| 14 | | | | |
| 15 | | | | |
| 16 | | | | |
| 17 | | | | |
| 18 | | | | |
| 19 | | | | |
| 20 | | Evolve (00:00:00 @ DNA) | | |
| 21 | | | | |
| 22 | | | | |
| 23 | | | | |
| 24 | | | | |
| 25 | | | | |
| 26 | | | | |
| 27 | | | | |
| 28 | | | | |
| 29 | | | | |
| 30 | | Evolve (00:00:00 @ DNA) | | |
| 31 | | | | |
| 32 | | | | |
| 33 | | | | |
| 34 | | | | |
| 35 | | | | |
| 36 | | | | |
| 37 | | | | |
| 38 | | | | |
| 39 | | | | |
| 40 | | MAX | | |
Gallery