Yudon was made creatable in Jurassic World: The Game on October 23, 2017 as a legendary hybrid carnivore.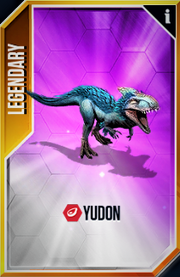 Information
It becomes unlocked in the market after fusing a level 40 Yutyrannus and level 40 Troodon. Additional individuals can be purchased in the market for 78,400 DNA.
Cost and Time to Hatch
Rank
Legendary Hybrid
Incubation Period
7 days
Placement Cost
78,400 DNA
Selling Reward
39,200 DNA
Maximum Earning Rate
493 Gold/Minute
Appearance
Unlocked Trivia
Evo 1
Reward: 36,400 Food
"The Yudon is a hybrid of the Troodon and the land carnivore Yutyrannis!"
Evo 2
Reward: 263,200 Food
"Though not the largest hybrid in Jurassic World, the impressive feathered spines of the Yudon makes it one of the most intimidating!"
Evo 3
Reward: 100 Bucks and 1,205,150 Food
"The Yudon is smaller but faster than the Yutyrannus, and with more strength pound for pound!"
Evo 4
Reward: 100 Bucks, 5,096,140 Food and 1,500 Loyalty Points
"The oversized head and powerful neck muscles of the Yudon allow it to take down prey larger than itself!"
Level-Based Stats
| Level | Unmodified Earning Rates (8 Hours) | Feeding Costs | Life | Attack |
| --- | --- | --- | --- | --- |
| 1 | | | | |
| 2 | | | | |
| 3 | | | | |
| 4 | | | | |
| 5 | | | | |
| 6 | | | | |
| 7 | | | | |
| 8 | | | | |
| 9 | | | | |
| 10 | | Evolve (00:00:00 @ DNA) | | |
| 11 | | | | |
| 12 | | | | |
| 13 | | | | |
| 14 | | | | |
| 15 | | | | |
| 16 | | | | |
| 17 | | | | |
| 18 | | | | |
| 19 | | | | |
| 20 | | Evolve (00:00:00 @ DNA) | | |
| 21 | | | | |
| 22 | | | | |
| 23 | | | | |
| 24 | | | | |
| 25 | | | | |
| 26 | | | | |
| 27 | | | | |
| 28 | | | | |
| 29 | | | | |
| 30 | | Evolve (00:00:00 @ DNA) | | |
| 31 | | | | |
| 32 | | | | |
| 33 | | | | |
| 34 | | | | |
| 35 | | | | |
| 36 | | | | |
| 37 | | | | |
| 38 | | | | |
| 39 | | | | |
| 40 | 236,640 | MAX | 11,563 | 3,613 |
Gallery