Zhejiangopterus can be created in Jurassic World: The Game as a super rare pterosaur.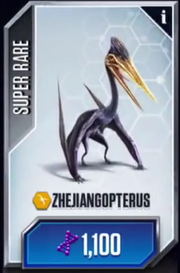 Information
It is unlocked by completing battle stage 37. More individuals can be purchased in the market for 1,100 or through card packs.
As of June 11, 2015, a level 40 Zhejiangopterus can be fused with a level 40 Tropeognathus to create the hybrid Tropeogopterus.
Cost and Time to Hatch
Availability
Super Rare
Incubation Period
06:00:00
Placement Cost
1,100 DNA
Selling Reward
550 DNA
Maximum Earning Rate
232.32 Gold/Minute
Additional Information
Zhejiangopterus
Appearance
Unlocked Trivia
Evo 1
Reward: 1,190 Food
"The Zhejiangopterus gets its name from the Zhejian Province, where its fossils were found in 1986."
Evo 2
Reward: 7,755 Food
"Unlike other pterosaurs of he Late Cretaceous period, the Zhejiangopterus lacks a large, bony crest on its head!"
Evo 3
Reward: 44 Dino Bucks and 35,545 Food
"The Zhejiangopterus' wingspan ranges from 11 and 15 feet in width. The American bald eagle's wingspan is only 7.5 feet!"
Evo 4
Reward: 88 Dino Bucks, 150,170 Food and 88 DNA
"Did you know that the Zhejiangopterus only weighs between 50 and 70 pounds? That's the same as a golden retriever!"
Level-Based Stats
| Level | Unmodified Earning Rates (2 hours) | Feeding Costs | Life | Attack |
| --- | --- | --- | --- | --- |
| 1 | 88 | 1,188 | 143 | 55 |
| 2 | 175 | 2,343 | 151 | 58 |
| 3 | 262 | 3,531 | 159 | 61 |
| 4 | 349 | 4,686 | 167 | 64 |
| 5 | 436 | 5,874 | 175 | 67 |
| 6 | 523 | 7,029 | 183 | 70 |
| 7 | 610 | 8,217 | 191 | 73 |
| 8 | 697 | 9,372 | 199 | 76 |
| 9 | 785 | 10,560 | 207 | 79 |
| 10 | 872 | Evolve (01:00:00 @ 60 DNA) | 215 | 82 |
| 11 | 1,917 | 7,755 | 278 | 106 |
| 12 | 2,091 | 8,465 | 288 | 110 |
| 13 | 2,266 | 9,174 | 298 | 114 |
| 14 | 2,440 | 9,851 | 308 | 118 |
| 15 | 2,614 | 10,560 | 318 | 121 |
| 16 | 2,788 | 11,270 | 328 | 125 |
| 17 | 2,963 | 11,979 | 338 | 129 |
| 18 | 3,137 | 12,672 | 348 | 133 |
| 19 | 3,311 | 13,382 | 358 | 137 |
| 20 | 3,485 | Evolve (02:00:00 @ 70 DNA) | 368 | 140 |
| 21 | 7,319 | 35,551 | 453 | 173 |
| 22 | 7,667 | 37,175 | 465 | 178 |
| 23 | 8,016 | 38,940 | 477 | 182 |
| 24 | 8,364 | 40,590 | 489 | 187 |
| 25 | 8,712 | 42,323 | 501 | 191 |
| 26 | 9,061 | 43,973 | 513 | 196 |
| 27 | 9,409 | 45,689 | 525 | 200 |
| 28 | 9,758 | 47,355 | 537 | 205 |
| 29 | 10,106 | 49,055 | 548 | 209 |
| 30 | 10,455 | Evolve (04:00:00 @ 80 DNA) | 560 | 214 |
| 31 | 21,606 | 11,894 (5x = 59,470) | 668 | 255 |
| 32 | 22,303 | 12,273 (5x = 61,365) | 682 | 260 |
| 33 | 23,000 | 12,666 (5x = 63,330) | 696 | 266 |
| 34 | 23,697 | 13,042 (5x = 65,210) | 709 | 271 |
| 35 | 24,394 | 13,431 (5x = 67,155) | 723 | 276 |
| 36 | 25,091 | 13,808 (5x = 69,040) | 737 | 282 |
| 37 | 25,788 | 14,197 (5x = 70,985) | 751 | 287 |
| 38 | 26,485 | 14,573 (5x = 72,865) | 765 | 292 |
| 39 | 27,182 | 14,963 (5x = 74,815) | 779 | 298 |
| 40 | 27,879 | Fuse (04:00:00 @ 350 DNA) | 793 | 303 |
Gallery